The Kelowna Candle Factory is a small sustainable green business owned and founded by Carla and Sean Jackson. Sean and Carla are happily married, together for 25 years, love at first sight…. as was their love of beeswax and soy candles.
It was back in the spring of 96′ when we starting pouring votives in a barn out in the country near Kaslo, BC. This Candle Factory enriched our lives forever. Sean and Carla are like fine wine with their flow in their business and life with each other, it truly only gets better and stronger with age!
Their boys were born into this business and think this is an amazing lifestyle as not only does their family own a business that creates beautiful beeswax and soy candles and sells them throughout Canada but Sean and Carla have been blessed to have always been there for their boys! You may see the entire family in the business especially on Saturdays!
Our 100% pure beeswax candles, natural soy candles and 100% unbleached muslin ear cone candles are hand-made in a beautiful factory with a great storefront in the cultural art district of beautiful Kelowna, BC. We would love for you to stop in and check out the candle factory and breathe in the sweet smells!
Sean is a true craftsman and is the king in candle making, he is also an incredible soccer coach to his son's and loves lacing up his skates playing the good old game of hockey. Carla is the queen bee in the candle company educated in marketing, sales, accounting and loves coming up with creative ideas to blossom in their candle company. She is a also a playful, energetic and nurturing yoga instructor and holistic health coach.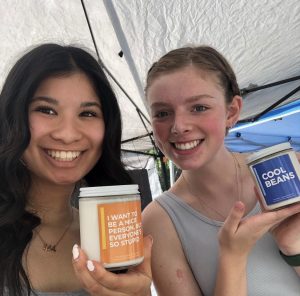 We thank you for visiting our site!